In the App Settings, you can add or adjust options that you have access to based on your User Type and Permissions. The more access you have, the more settings you can use.
⚠️ These are not individual User Settings - for that, **follow this link**.
🌟 - Certain Settings are incredibly powerful and can have a direct effect on automatons, communication triggers, user access and many other items. In some cases, it is imperative that you understand each section before making changes.
⚠️ Minor changes can have major impacts to all areas in which you have access. Be sure to verify any changes you ensure all actions are as anticipated and desired. You are responsible for changes and any potential errors that arise from those changes. Please ask for assistance if you do not understand the instructions.
Profile Settings
Here you can add or update your Team Name as well as set your Team's default Timezone (Team Location). Your timezone can determine when and when not communications are sent and ensure tasks and activities are assigned when expected.

---
Integrations
Zapier Integration
You can
connect your account with Zapier
- Zapier is a low cost and powerful tool to connect platforms together using a 'Zap'. To learn how to set-up Zapier, **follow this link**
Phone Integration (SMS, MMS, Calls, Voice-drop)
You likely already have a Team number associated with your account. If not, you can select a new number by clicking the 'Select a number' button, in white and blue.
If you would like to change your Team's existing number, click the 'Trash Can' icon in the lower-right. Then click the 'Confirm' button in blue.

The Chose Number slide-out will appear on the right side of the screen. Type in the Area Code you would like to use. Then choose from the available numbers within that Area Code. Next you will click the 'Confirm' button at the bottom, in blue.


You should receive a confirmation message in green. Just click the blue button at the bottom to exit. You will now see your new number in the Select a Team CRM Automation Number box. This will be used for outbound and inbound SMS for your team.


👍 This concludes with Integration section of the app settings.
---
Contact Statuses
Contact Statuses help to keep your teams contacts organized and logically designated to fit in your sales and client management processes. It's important to plan the Statuses with input and buy-in from the stakeholders on your team. The agreement and adoption of standardized definitions of Contact Status is imperative to maintaining a well organized and function database.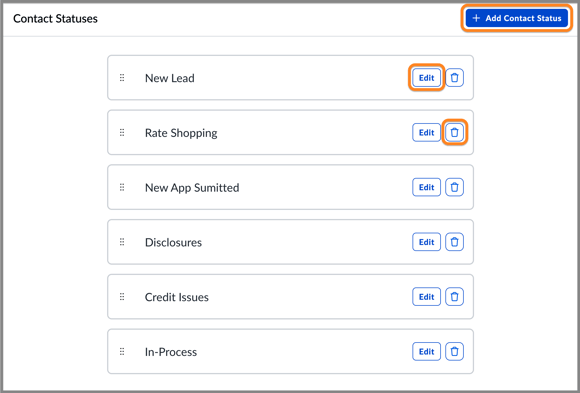 You have 3 options:
Add - Create a new Contact Status. Simply click the '+ Add Contact Status' button, in blue. Type the new Status and choose the 'Create' button, in blue.


Edit - Change the text of an existing Status. Simply click the 'Edit' button to the right of the Contact Status you want to change.


Next, edit the name and click the 'Update' button, in blue.


Delete - Remove an unwanted Contact Status. Simply click the Trashcan button to the right of the Contact Status you want to delete.




Next, confirm that is the Status you want to delete and click the 'Delete' button, in blue.




😱 If you delete a Contact Status that is in-use - or - currently set on contacts, it will be removed from those contacts. These contacts will no longer have a Contact Status.
👍 This concludes the 3 options for adding, updating or deleting contact statuses
---
Transaction Statuses
If you have access to Transaction Statuses, most likely, you will not want to update or change these.
These are directly related to your LOS integration, and therefore, should not be changed without very specific planning and testing.

If you do not have an LOS connection to drive your Loan In-process workflow (IPW) automations. These statuses do not have the potential for catastrophic impact.

We will not go into detail in this article - however, if you are an admin in charge of IPW automations and LOS data mapping/translations, you should look to **this article**
⚠️ Any changes made to transaction statuses can cause unintended consequences. Changes should not be made by anyone other than the person or team who is in charge of maintaining LOS integrations and IPW automations.
👍 This concludes an overview of transaction statuses
---
Users - Team Users
The Team Users section offers certain admins members that ability to add new members of a team.
You can view existing team members, their basic contact information, their privilege level and creation date.
In order to create a new User - simply click on the '+ Invite User' button, in blue.


In the Invite a User slide-out on the right of the screen, choose the access/privilege level you want this new team user to have. Either, 'General' or 'Admin'. If you're not sure, it's best to start with 'General'. Click the 'Next' button at bottom, in blue.


Next you will choose if you are creating a New User or connecting an Existing User to your team.

If connecting an existing user, it may require high-level admin access. If you do not have the ability to find and add an existing users, please contact your company's Daily AI main admin.

To add a new user to the CRM and connect them to your team, leave 'Incite a new user to the CRM and to the team' selected. Click the 'Next' button at bottom, in blue.


Next you will add the required information associated with the new user. When complete, click the 'Next' button at bottom, in blue.


At this point, you will chose which teams this new user will have accesses or inclusion. Depending upon your access/privilege level - you may see a single team, or you may see multiple teams to chose from.

Choose the appropriate Team(s) - then choose the Roll for this new user.
When you're satisfied with your choices, click the 'Send Invitation' button at bottom, in blue.


The new user will receive an email within a few minutes. This will include 'next-step' instructions as well as a link to complete initial setup.
⚠️ Adding a new user will incur additional costs to be billed to your account.
👍 This concludes adding a new or existing user to a team though settings