Automations is your one area to create and manage all things automatically created or managed. From Transaction (loan) communications to Drip (nurture) campaigns to New Lead workflows, tasks and comms - Automations manage your best intentions.
---
Automation Types
There are two main types of Automations and unlimited possibilities within each - We will describe the most common usage for each:
Contact Based:

Drip (Nurture) Campaigns - Manually or automatically assigned series of Emails, SMS (Text Messages), and/or Tasks with time delays or schedules.
New Leads - Automate your teams best intentions - Communications, Tasks, Assignments, etc. Never lose track of a lead, no matter where it came from and what it's situation.
Long Term - Marketing, Notifications and Anniversaries - Send monthly Newsletters, inform Partners, Birthday greetings, etc. All can help you stay in front of your database as an industry expert, with little effort.

Transaction Based:

Loan Milestone notifications and communication - Inform anyone associated with a loan and from any user, with timely and consistent communications using the medium you prefer.
Loan Documentation notification and communications - Inform anyone associated with a loan and from any user. Setup automated standard processes based on the way your team works.
Out of ordinary situations - Transactions in a status too long, Lock expiration, Closing date missed, etc.
👍 This concludes Automation Types
---
Automations View
Automations are not complicated, however, there are aspects that make them incredibly powerful and useful. Due to their ease and power - your team, organization and marketing entities will take advantage and continually add, modify and enhance these automations.
To view existing Automations and to add a new Automation - To start, click 'Automations' in the left-side menu.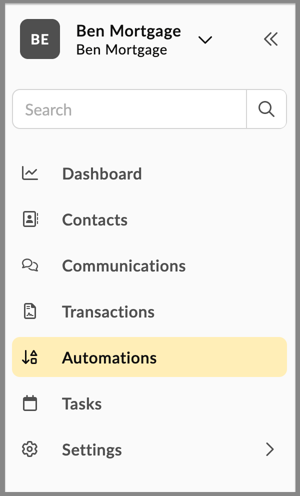 The Automations section will load, showing all existing automations associated with your team. Often and most likely, by default, you will see many automations provided by one or more of the following methods:
Default 'Playbook' automations provided by Aidium
Default 'Brand' provided by your Mortgage Corp or Marketing entity
Those created by your or your team
This is how the Automations section will appear - but with your team's automations showing: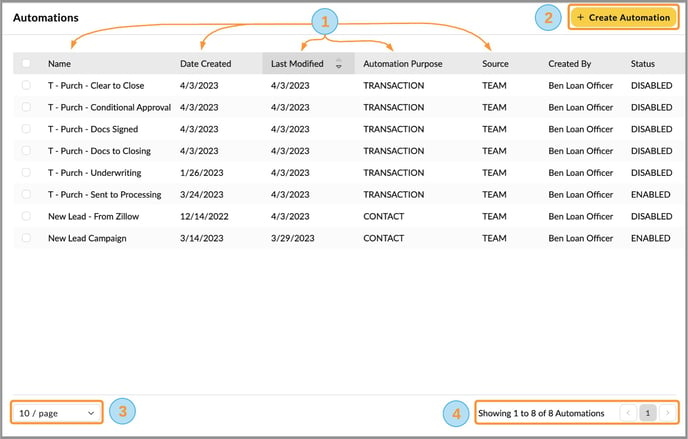 Columns - These are sort-able information to help you understand, at a glance, what the automation does, when it was created/modified, the purpose, where it came from, created by and if it is enabled/disabled.
Create Automation - Button to create or start a new automations
Number of Visible Automations per Page - Similar other sections, you can set the number of visible automations on each page (10, 25, 50, 100)
Advance Page and View Total Automations Count - Similar other sections, you can view the total number of automations, as well as advance page to view more automations, if available.
👍 This concludes Automation View - The more you build and edit automations, the more familiar it will be.
---
Intro to a new Automations
First, to create a new automation - As seen above, click the '+ Create Automations' button in the upper-right. You will then be given the choice of Contact Based Automation -or- Transaction Based Automation. Each are defined above, in this article.



Once you choose your automation type, it will remain through the life of your new automation. Before beginning to build any automation, you should always name it first. It's will become incredibly important to standardize the naming of your automations. As time goes on and you build more and more automations, understanding their purpose will help you navigate your automations in the future.
⚠️ Changing the purpose of an automation, after you create it, will remove all triggers and actions previously added.
There are two distinct sections of an automation:
Automation Trigger - Set criteria for automatic assignment or no automatic assignment
Automations Action - All the things you want to happen after an automation is assigned
Automation Trigger


Manually Trigger - To allow a user to make the decision to manually assign a Contact based automation, you will simply leave the 'Trigger' blank with no Conditions set. With a Transaction based automation, you must set the Trigger Conditions, you are unable to manually assign a Transaction based automation.
Automatic Trigger - For automatic assignment of an automation, you will be required to set Conditions. Each condition is based on a data field within a Contact or Transaction and you can set multiple conditions, as well as, condition groups to allow for 'and' / 'or' options to further narrow-down or expand your criteria.
Automations Action

Actions is were the magic happens. This is where you can build and add communications and follow-up in the following ways.
Set Delays - by min, hour, day, week, month, year or specific date
Send Email - send to contact or any related contact
Send SMS or text message - send to contact or any related contact
Add to another Automation - to allow for simultaneous actions
Apply Tags - to help keep your records organized
Assign Task - to keep your team organized, fulfill promises and nurture leads
You can use any or all of these types of actions to build a robust automation.
👍 This concludes the intro to a new automation