In the Account Settings, you can connect your company email to send direct emails to contacts and automated transactional emails. This will also enable a two-way integration connecting emails you send form your computer or phone's email client.
🎉 When integrating your email to Aidium, email is captured and recorded in the corresponding contact record, even if it is not sent from your CRM. This is a great way to capture all communications within a contact record.
⚠️ If you're looking for all User Account Settings, follow this link.
To begin, click on your Name at the lower-left side of the screen. Then choose, 'Account Settings'.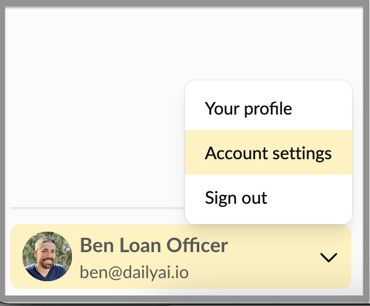 Once you click, 'Account Settings', the left side of the menu will be taken over by your account settings. Click on 'Integrations'.
On the Integrations page, if you do not have an email integrated already, you'll see the 'Add email integration' button, click that.


Next, choose which email platform the email address you want to integrate is. Choose either Google or Outlook. If you don't know, please contact your company IT support desk.

After choosing the appropriate email platform, follow the instructions for logging in. This portion of the setup is out of Aidium's control. Any security measures will me managed by your company's IT administration and setup (including any two-factor authentication that may be required. Aidium cannot assist with the log-in to your email)
Once your email integration is successful, you will receive a confirmation message on the screen and you will see your email address listed, rather than the previous button.





👍 This concludes integrating your email with Aidium